UNILIN L2C LABEL PROGRAM
Flooring Industries, better known as Unilin Technologies, protects and commercializes the patent portfolio of the Mohawk Group and its external partners. In doing so, many patented technologies have been made available to licensed partners all over the world.
In order to identify boxes of flooring that are given patent protection under the license of Flooring Industries, Unilin introduced the "License to Click" or "L2C Label Program" in April 2012. A box of flooring products that is correctly labelled can be considered as licensed. If not correctly labelled, the flooring products are considered to be unlicensed, even if they are made by a licensee. The L2C label program is thus a method to facilitate the detection of infringing products and in doing so it contributes to fair competition and the maximum protection of Unilin's licensed partners and their customers.
The L2C labels are unique, numbered, holographic stickers that flooring manufacturers from certain regions are required to attach to their boxes of flooring products. It is important to make sure that all glueless locking products made in those specific regions carry an L2C label. Products making use of a glueless locking system that are not labelled according to the instructed guidelines, will be considered as unlicensed products, even if they are manufactured by a licensed company, and will be legally treated as such.
The use of the L2C labels is mandatory for every box of flooring products manufactured and sold by licensed partners in China Mainland, Vietnam, India, Taiwan, New Zealand, Japan, Philippines, Latvia and Kazakhstan.
Which labels are there?
The L2C label program consists of 4 different labels that each have a specific color. These colors indicate in which parts of the world the products can be sold.
The L2C program was joined by Välinge Innovation AB (in 2012) and I4F (in 2020). This will increase the success of the L2C label program to identify licensed products even further. Each licensor (Unilin, Välinge Innovation AB and I4F) has its own labels bearing its own respective logo. A licensor's L2C label can only be applied to products sold under a license with such licensor.
The map below shows which color applies to which specific regions.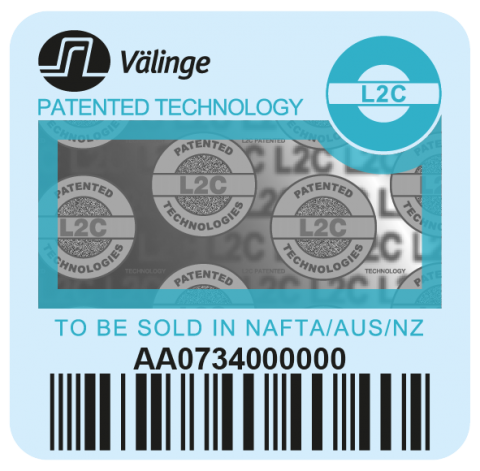 TO BE SOLD IN:
NAFTA
Australia
New Zealand